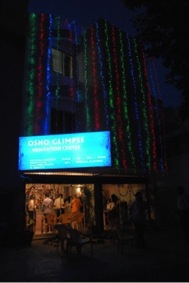 Osho Meditation Center started in the year 1997. Recently the center is shifted to suburb Gokulam which is the yoga capital of south India.
Daily Meditation classes will be held at this center and selling of Osho Books, Music CD's, DVD's etc.
Meditation Program:
Dynamic Meditation: 6.15 am to 7.15 am
Evening Meditation: 6 pm to 7 pm.
Bookshop Timing: 10 am to 2 pm and 4 pm to 7 pm.
Meditation Camp Details: Every Month Residential Meditation Classes for 3 Days.